You are a professional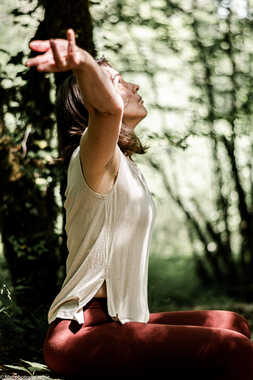 Class
Auzhó offers anyone who wishes to practice yoga the opportunity to do so through coaching and classes where accessibility and adaptation are the core values. It's also your ambition ? Let's talk about it !
Accessibility coaching
– To gain skills, knowledge and confidence to welcome all types of disabled, chronically ill, ederly people, etc.
– To reconcile yourself with "accessibility": it's a word that scares people, but in reality everyone wins. The benefits are real: you broaden your clientele and create a relationship of trust with them
– To build solutions according to your objectives: inclusive language, addressing the issue of disability and access, creating a safe and non-judgmental space…
Adaptive Yoga Training:
– Learn how to design yoga classes where all students can practice together, regardless of age, size, ability or experience level.
– Gain knowledge about common medical conditions and the benefits and concerns of yoga practice.
– Examine the physical and psychosocial benefits of prāṇayāma and meditation and how to make these practices accessible to all, regardless of ability.
Are you running a training centre, a studio, an association?
– I am available to join your team as an expert in adaptive yoga and meditation
– I will make my knowledge and experience available to your organisation
– I can use my creative and innovative skills and experience to support you in building effective and accessible training programmes 
Who am I ?
I've now been disabled and chronically ill for over seven years, I'm well aware of the problems and dreams of people who are in the same situation as me.
Yoga is a practice that is now part of my health and wellbeing regimen, it's even one of the only things that supports me. Through Auzhó, I wish to share my experience and all these tools with other people so they too can find a practice that serves them.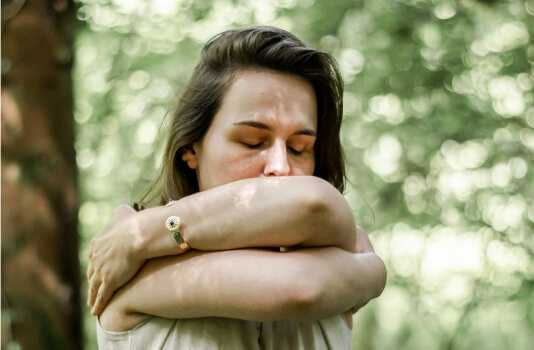 Why yoga?
The practice of yoga lends itself well to serve people with chronic illness and disability of any kind. It is a practice that encompasses the whole person, body, heart and mind. It can therefore have a positive and lasting effect on physical and mental health:
– The āsanas or postures allow you to train and soften your muscles and joints
– The prāṇayāma (or breathwork) consists of controlling and concentrating on one's breathing
– Meditation (dhyāna) is a mental practice of focusing on an object of thought, emotion, or sensation
– Philosophical reflection acts as a compass to live our lives in a fluid, dignified and happy way
The benefits of yoga and meditation are diverse and validated by several scientific studies. There are so many studies on the impact of this type of activity on our physical functioning and particularly on our brain, that it is now considered as scientific evidence:
Promotes independence: strengthening, stretching and supporting the body

Improves psychological well-being, including stress and anxiety

Allows relaxation and letting go : of the body and the mind

Balances vital functions : respiratory, circulation, hormonal, neurological, etc.
Auzhó is a space of mutual support and dialogue that aims to be as safe as possible, without judgement, where each person feels comfortable practising as they need to and as they feel.
Book a call
Let's work together to achieve this: let's talk about it?